Granite Creek Range Complex
SKYBRIDGE TACTICAL sUAS CAPABILITIES:
Granite Creek Range Complex (GCRC) is a premiere, comprehensive sUAS training/equipment testing facility and a full-service range complex enabling private and public sector teams to conduct specialized sUAS training on a private 6,000 acer range near Sheridan, Montana. The site includes a variety of terrain with shear mountain cliffs, open fields, gully's occupied by rocks and trees all in a high-altitude environment averaging 6,500 feet above sea level that is fenced 360 degrees. Granite Creek Range is positioned under G classified airspace with the closest airport being Ennis Big Sky (EKS) 12 miles southeast, the only nearby highway (Highway 287) is positioned 2.5 miles way from the range facility. Flight operations take place at 45°21'12.3″N 111°52'45.2″W.
PART 107 FAA EXEMPTION WAIVERS:
Night flying exemption was granted by the FAA that allows SkyBridge to accommodate sUAS testing/training operations after civil twilight up to 400 feet above ground level within speeds of 0-100 MPH within the visual line of site of the remote pilot in control. (Not restricted to Granite Creek Complex)
Maximum ground speed exemption waiver allowing sUAS testing/training operations to be conducted during daylight hours up to 125 MPH.
SkyBridge Tactical obtains an exemption waiver to fly beyond the visual line of sight up to 5 miles away from the remote pilot in control with visual observer assistance.
SkyBridge Tactical has authorization to fly sUAS's up to 1,000 feet above ground level during daylight hours within the vicinity described below.
SkyBridge Tactical offers a classroom session prior to operations, taught by an FAA Part 107 drone certificate holder with multiple years of adult learning experience filled with mandated laws and safety regulations for flight crew participants, followed by a 36-question exam to ensure the flight crew is knowledgeable in safe sUAS operations.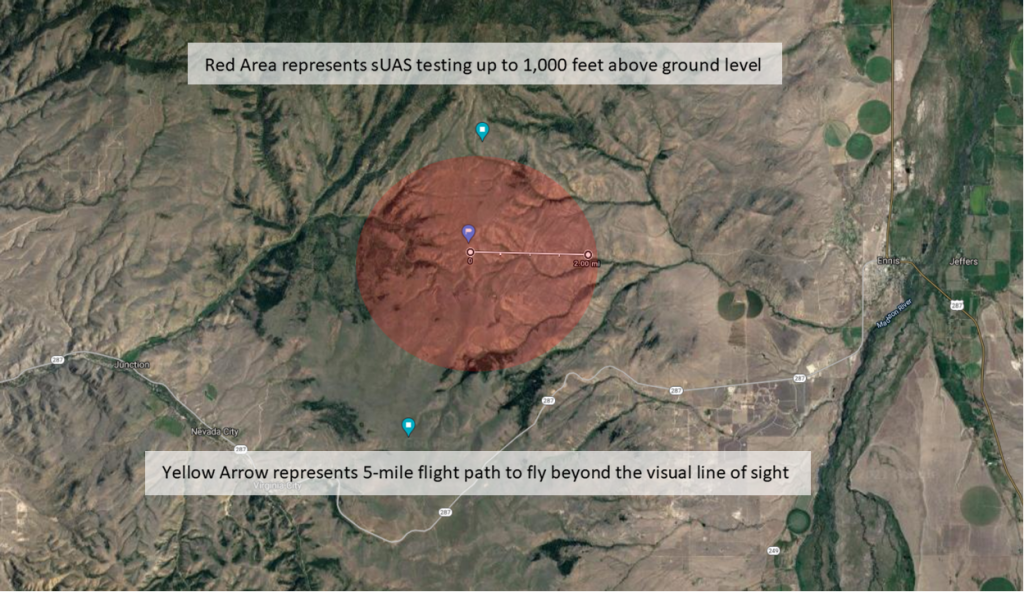 Granite Creek Range Complex (GCRC) is a premiere, full service, comprehensive training facility and range complex enabling SOF Teams to conduct specialized training ranging from individual shoot, move and communicate skill sets through Full Spectrum, Jointly Integrated, Full Mission Profile and Pre-Mission Training exercises.
GCRC has provided world class kinetic and non-kinetic training opportunities and support for multiple DOD, Interagency, and USSOCOM organizations ranging from SR, DA & UW scenario based events to high altitude long-range patrolling, medical, survival & pack animal training events.
SCOPE OF WORK:
Due to terrain, weather and other operational environmental challenges, which closely resemble current conflict areas, GCRC is ideally situated Stateside training facility that replicates conditions and environments where SOF Warfighters are taking the fight to the adversaries of our nation. Its use is offered exclusively to Military and Federal Law Enforcement.
As one of the event locations for the national Rifleman's Team Challenge series, GCRC hosts the annual Granite Creek Sniper Challenge (June 3rd- 4th 2017), where 30 two-man teams compete to hone long range marksmanship skill sets.
SNIPER-PRECISION SHOOTING TRAINING FEATURES:
30° Uphill / Downhill High Angle /Slant Range Engagement areas from 150 to 1120 meters
Aerial Platform Sniping Range
6,000 ft to 7,000 ft Elevation Long Distance Range
Unimpeded 2000 meter KD Lane
Undulating to Rough Terrain Engagement Areas
High-Wind Field Fire Engagement Areas
Low to No Mirage-Cross Valley 2,000 meter Lane
Barometric Pressure Change +/- 1.5" a day
Larue Sniper Targets out to 1,200 meters
Thermal Targetry
Configurable Range Set-Ups
Winter Warfare Training
Full Mission Profiles
Corporate Leadership Training
Horse and Mule Pack Training
RANGE MANAGER:
Bill Wood
(406) 596-7618
bwood@skybridgetactical.com