Top Job Hunting Tips for Veterans
The competitive nature of today's workforce presents an obstacle for anyone trying to set themselves apart in the job market, however, veterans transitioning into the civilian workforce face a greater challenge. The US Chamber Foundation conducted research through 2016 that found 4 in 5 veterans experience some period of unemployment, and their survey results ranked the top transition challenges as deciding the right career path to pursue (61%), not receiving feedback from hiring managers (56%), and not having the necessary resources or contacts (53%). These issues do not need to completely hinder finding great employment though, and with the right approach and careful planning, your future employer will realize the value your unique skillset brings to the company as a veteran. If you're a vet struggling in your current job search, review some of these job hunting tips to ease your military transition.
1. Craft Your Elevator Pitch
One of the most important skills to have whether you are searching for a job, changing careers, or trying to set yourself up for advancement within your organization is the ability to sell yourself!
What is it?
A mini, pre-prepared speech that summarizes who you are, what unique background you have, and what your agenda or objective is.
Here's how you do it:
Employers need to know that you are confident in yourself and the transferable skills you bring to the table.
Lay it out. Start with a few ideas, such as, "who am I?" "What do I bring to this company?" "what are my strongest skills?" From here, you can create and attention getter that is unique, engaging, and that sets you up to answer the questions above.
Keep it short and sweet. This is your chance to showcase your personal brand and ensure your first impression counts. The purpose of an elevator pitch is to stimulate a brief conversation and take advantage of an opportunity to network as if you are exchanging business cards on a random elevator ride – hence the phrase "elevator pitch."
Practice. You play like you practice, rehearsing will allow you to perfect your short but sweet pitch. Having a well-constructed and executed elevator speech offers great practice for future interviews and general networking skills, and it may even provide that opportunity to get your foot in the door!
Get out of your comfort zone. Kick yourself out of your comfort zone and spark a conversation with strangers when you have the chance to.
2. Optimize Your Resume
Ensure your resume is not only up-to-date but also framed in a way that showcases your added value and impact made in previous roles.
Common challenges. Veterans face challenges that stem from this disconnect between the hiring managers in the civilian workforce and veteran resumes. The experience gained through active duty is applicable and transferable to private sector careers, but the military language used, and general lack of context business leaders have regarding this field leads to a misunderstanding of skills and eligibility. The US Chamber Foundation report mentioned previously found that on a scale of 1 to 10, 54 percent of HR and recruiting professionals have a 5 out of 10 or lower knowledge of military rank and structure (2016). Due to this gap, there can be difficulty in properly communicating military service skills and effectively translating it in a way that allows HR to see the overlap in relevant knowledge. So, don't get discouraged – this doesn't mean that veterans are overestimating their value. Instead, you must strategically craft your resume so that hiring managers understand and recognize that your experience is a potential asset to their company.
Create a master resume. Create a resume that can be altered to fit any and every job. Look at the job description and requirements and highlight the skills and/or experiences that best fit the employer's needs.
Incorporate industry appropriate language. For many veterans, it is difficult to translate military language and experience to the civilian business world. Read the job description provided by the employer and use their business "buzz-words," using these key words will ensure you fit the 'filters' that are often set by employers.
For more tips on how to make your resume strong, click here.
3. Networking Guidance & Online Presence
Relationship building is critical no matter what career you pursue. I'm sure you can remember that even during active duty, you would speak with colleagues when you were advancing to a new position and get advice or recommendations from those who held the role previously to ensure you were ready to execute your duties. This is no different in the civilian workforce, so don't be reluctant to reach out to people for advice!
Utilize social media platforms. Networking events are great, but since they aren't always frequent and may be hard to find in your location, make sure you don't overlook how networking can be leveraged virtually, too. Social media platforms are a highly effective resource for forming relationships or starting a dialog with future employers.
Create a LinkedIn account. If you do not have a LinkedIn account yet, be sure to create one immediately and begin building your online presence. LinkedIn profiles are an extension of your resume, and it allows you to stay connected with anyone you meet professionally. Say you had the chance to try out that elevator pitch and received a business card – look that person up in a timely manner and send a brief follow-up message recapping your conversation and interest in continuing it.
Create an Indeed profile. Indeed is the number 1 job search engine in the world, making it important that your profile is in tip-top shape. This site allows you to share your job desires (i.e. location, salary, specific work, etc.) and your resume. Perfecting your resume to include industry-specific key words will help you to fit many different employer's searches.
4. Finding the "Right Fit" 
Part of the issue here is the challenge of deciding what career path you are interested in.
Try to be open-minded. Look outside of industries you have assumed you would be a good fit for and investigate those that you have overlooked.
Research. Consider specific companies that are dedicated to diversifying their talent and/ or specifically value employing veterans.
For example, Hilton promoted their initiative through this article on LinkedIn in 2016. They explain how Hospitality is often overlooked by veterans, however, there are many ways in which it overlaps – you simply need to find common ground!
5. Explore Your Options
Utilizing numerous sources and tools for applying to jobs will make sure that you aren't putting all your eggs in one basket and should increase your chances of finding the right job, not just a job.
Keep it simple. There are typical job sites that are still great resources (Indeed, CareerBuilder, Monster, LinkedIn), for more job opportunity sources click here.
Veteran specific sources. Roles specifically targeted towards vets can also be found on government or private sector sites. Sites that have veteran specific jobs include Clearance Jobs, Indeed, and the US Department of Veteran Affairs.
Note: LinkedIn has an entirely separate site, LinkedIn For Good, which is an initiative dedicated to connecting those underserved and they have a specific program to assist veterans in their transition. Whether you take advantage of networking in person or online (we recommend both!), it will be beneficial for maintaining professional relationships as well as becoming more comfortable with conversing with civilians who will be your future co-workers.
Contract positions. Another reliable source would be working with companies that offer contract positions (like us!). These companies work with both civilians and veterans to support various customers across the globe. At SkyBridge Tactical, we specifically work as a full spectrum service provider, supporting our customers in many areas of expertise. Companies that offer contract positions are a great way for veterans to get back into the workforce in a setting that is familiar.
All in All…
Although there is plenty of room for improvement when it comes to HR professionals and hiring managers understanding how to recruit veterans and providing long-term opportunities for career growth, veterans must also take ownership over their transition by following these job search tips.
Next step: ensure you are prepared to ace that interview! 
Co-Authored by SkyBridge Tactical Business Development Interns, Lexie Murdough and Gabriella Elnicki.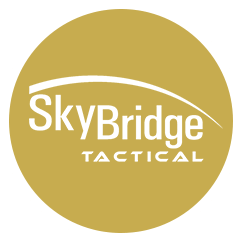 COMPANY INFORMATION
CAGE CODE: 5AQ00
DUNS NUMBER: 829331706
NAICS CODES:
541330 – 541512 – 541611 – 541612 – 541618 – 541690 – 541712 – 541910 – 541990 561210 – 561320 – 611430 – 611699 – 811111 – 811219