Top Interview Tips for Veterans
After the seemingly endless cycle of searching and applying for jobs, you've finally landed an interview! Now, there's only one thing standing between you and your dream job—nailing that interview. Do not fret, with these 10 tips the daunting interview may not be as difficult as you once thought.
1. Research the Company
Get to know the company. Prior to your interview, research the company at which you will be doing your interview. Having knowledge about the company will give you a leg-up as soon as you walk through the door.
Company culture, missions, and values. Knowing the culture, missions, and values that are held at the company will help you determine whether if this place is a good fit and where you would best fit within the company.
Clients, services offered, or products sold. Making yourself familiar with the everyday duties of the company will give you a general idea of what an ordinary day will look like. This will also help you to answer situation- based interview questions and prepare for the end of the interview when it's your turn to ask the questions. Take advantage of this opportunity and ASK questions! As you conduct your research, take notes and have questions prepared for the interviewer. This is an excellent way to demonstrate your long-term consideration and interest in the company.
Want to know other things to research about a company before your interview? Click here.
2. Identify Your "Selling Points" & How They Fit the Company's Needs
Use your research. This is where you use the research you've just done to your advantage. Determine keywords that describe you and fit the needs of the company. Preparation builds confidence, which is key in any business endeavor.
Use your elevator pitch. If you don't have an elevator pitch, now is the time to make one. This is a brief statement that will grab your future employers' attention and summarize who you are, what your goals are, and what you bring the table.
Highlight your skills. Determine your skills and your weaknesses. Express to potential employers where your skills would fit within their company, how you would be an asset, and acknowledge which areas you would like to improve on and how this company will help you do so.
3. Practice Your Interview 
Know yourself. The most important thing to know in an interview is yourself. You should know your resume like the back of your hand; including job dates, locations, and employers.
You are your biggest selling point, make sure you know who you are and what you stand for.
Technical interview? If you will be doing a technical interview, then you can expect to be questioned on technical skills and knowledge, as well as relevant behavior scenarios. Hiring managers can gauge how you will handle different situations based on your description of how you have reacted in the past. Be prepared to answer behavioral questions by rehearsing and preparing for them; don't lose concentration or be surprised when encountered with any of these uncomfortable questions. Look through potential questions and prepare your answers ahead of time – practice makes perfect! Preparing answers in advance will put you into the problem-solving mindset needed to ensure the hiring manager recognizes you are the right fit from a cultural standpoint.
Body Language. Be aware of how you carry yourself; this includes gestures, posture, and non-verbal cues. Familiarize yourself with what certain body language means, and make sure you're conveying
Make a cheat sheet. Nerves can sometimes take over and cause you to draw a blank. This sheet is something you can bring with you to interviews that highlight specific areas you want to discuss, questions you may have for the company, and personal skills you want to emphasize.
4. Conduct a Social Media Audit
One of the first things employers look at when considering a candidate for the job is their online presence.
Google your name. This is one of the first things a potential employer will do, so you should too (if you haven't already). What content pops up? Consider doing a social-media profile audit.
What social media sites do you have a profile on? Go through all your social media profiles and make sure they meet professional standards. Does your online presence convey a consistent and tasteful personal brand across all platforms? Future employers want to employ people who will represent the brand well, as employees are a direct extension of the organization. If you do not use a certain social media platform but have a profile, delete it! Not only do you have one less platform to monitor but you eliminate the risk of being hacked.
Make your profile private. For many, social media platforms are a window into their personal lives; if this is the case for you, make your profile private. Having a private profile serves as an online privacy precaution for you, but it also prevents the possibility of prejudgments.
5. Dress Professionally
First impressions are everything, and dressing the part helps you play the part. Doing your research (step 1) will help you get an idea of the company culture, i.e. if it is an office setting- business professional attire would be appropriate. Dress to impress!
6. Bring Copies of Your Resume
If you do not know how many people will be interviewing you, be safe and bring more than one copy of your resume. This small initiative shows the employer you are prepared.  Many times, potential employers have already printed a copy of your resume, but it never hurts to be prepared. If they already have a copy of your resume, you can use it for yourself.
7. Keep a Positive Attitude
Remember to keep a positive attitude the entire interview. There is a high likelihood you will be asked about your previous jobs. If you are asked a question like this, it is important to keep your answer respectful and positive. Your answer to this question gives a potential employer a sense of your personality, behavior, and/or loyalty.
Positivity indicates confidence. A positive attitude is often associated with self-confidence, resilience, and capability. These are crucial skills that employers look for during the interview process.
8. Display Confidence 
Confidence is imperative to success in the business world. We are faced with challenges every day, how we react to those challenges can make or break us. Being a confident individual gives you the power to overcome life's many adversities.
Confidence provides opportunity. To potential employers, you are an investment; people want to hire individuals who will perform and succeed. Confidence inspires confidence and exhibits competency. Those who display confidence are more likely to gain the trust of potential clients and employers.
9. Thank Your Interviewer(s)
Sending a thank you note is a simple action that can go a long way. A letter shows respect and gratitude for the employers' time, and it also reminds the employer that you are waiting for a response.
10. Don't Lose Faith 
Whether the interview goes as planned or not, it is important to maintain a good attitude in any and every scenario. There are many possible reasons as to why you may not have been chosen for the job, keeping a positive attitude shows you are professional and can handle situations that may not be ideal. Every interview is an opportunity to learn and grow as an individual. Keep an open mind and be yourself!
Authored by SkyBridge Tactical Business Development Intern, Gabriella Elnicki.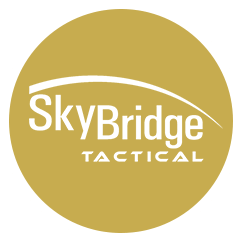 COMPANY INFORMATION
CAGE CODE: 5AQ00
DUNS NUMBER: 829331706
NAICS CODES:
541330 – 541512 – 541611 – 541612 – 541618 – 541690 – 541712 – 541910 – 541990 561210 – 561320 – 611430 – 611699 – 811111 – 811219